Ypsilanti Food Co-Op volunteer and solar guru Dave Strenski wants everyone to see the Food Co-Op's 2,280-watt solar array at work. Trouble is, solar panels don't do much to draw attention. They don't clang or hiss or belch smoke. Heck, they look like they're just sitting there on the roof doing nothing.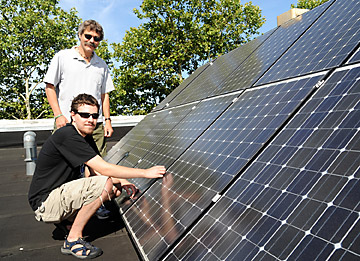 HARNESS THE SUN: William Sverdlik, an Eastern
Michigan University computer science professor
(standing), and Nik Estep, an EMU computer science
student, check out the solar panels atop the Ypsilanti
Food Co-Op. Under Sverdlik's guidance, Estep wrote a
program that translates the electrical pulses coming
off the co-op's meters into a series of graphs — in
real time — on to the Ypsilanti Solar Project's Web
site. The reports detail how much energy is coming
from the power grid, how much is coming from the
solar panels and how much energy the solar panels
send back out onto the electrical grid.
So Strenski, an application analyst by trade, set up monitoring equipment and a computer connection to capture information about the Food Co-Op's electrical use. The stream of reports tells how much energy is coming from the power grid, how much is coming from the 2,280-watt solar panel array on the roof, and how much is being pushed back out onto the grid.
The reports would pop up, line after line of text, on an old laptop inside the store. But their awkward format made the news hard to share with the world -- until Strenski teamed up with Nik Estep, an Eastern Michigan University computer science student, and William Sverdlik, an EMU computer science professor, in April.
Under Sverdlik's guidance, Estep wrote a program that translates the electrical pulses coming off of the co-op's meters into a series of graphs — updated in real time — on the Ypsilanti Solar Project's Web site, www.SolarYpsi.org . Precise enough to show dips in power generation when clouds pass over the panels, the graphs provide a fresh snapshot every five minutes.
"It certainly has made me more aware of the issues of solar-generated electricity," Sverdlik said. "It was fun developing a project where we're reporting data in real time and fun watching Nik play with this. I tried to be as removed from it as much as I could. I think he developed a lot of really, really good skills. He needed occasional, but minimal guidance. And it was neat to be involved in community work. It's made me want to go out and look for other opportunities to get my students involved."
On any given day, a jaggy red line that represents electricity being used at the co-op forms a steady squiggle in the overnight hours as refrigerator compressors switch on and off. It spikes in the morning when the store opens, with peaks and dips throughout the day as someone brews another pot of coffee or turns off a light.
But around 9 a.m., the 12 solar panels on the co-op's roof begin to provide free, clean power — signified on the graph by a steadily climbing yellow line. By noon, the panels are not only generating enough power to run the store's offices and bulk food area; they're feeding electricity back into the power grid.
The co-op sells back electricity to DTE Energy at the commercial rate (designated by a green line), which is currently 12 cents a kilowatt-hour.
Charts at SolarYpsi.org detail daily, weekly and yearly patterns of energy flow. since Estep and Sverdlik started working on the project in April, there's also a graph that shows how much energy is being used and generated each month.
"I was astounded,", said Strenski. "When you get volunteers, you never know what their level of capability or motivation will be. But, they were all over it. I couldn't keep up with them. I'd tell Nik, 'I think we need to do this,' and the next day he had it done."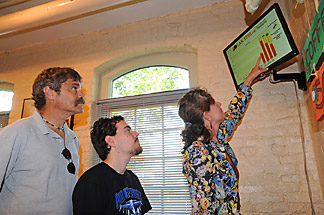 SOLAR ENERGY CHARTS: (from left) Eastern
Michigan University's William Sverdlik and Nic
Estep watch Corrine Sikorski, manager of the
Ypsi Food Co-Op, point to an electrical monthly
usage chart for the co-op. The chart shows four
months of data, with red representing how
much electricity comes from the utility
company; yellow representing how much
electricity was generated by the solar panels
locally; and green representing how much
excess electricity was sold back to the utility
company.

The co-op, which receives approximately one-third of the energy for its offices and bulk food area from the panels, started reaping benefits from Estep's data translation almost immediately. When the data went online in April, Strenski, who checks in on his pet project a couple times a day, noticed one night that the co-op's overnight power use didn't drop as much as usual. A little asking around revealed that, whoever closed up the night before, had left the lights on.
"There's positive feedback right there," Strenski said. "We know right then that we're using power that we shouldn't be (using) and the employee got the message the next day. You'd never find something like that on an electric bill."
The project, Sverdlik said, not only represents something outside the typical computer science experience. It involves some technical aspects that students don't typically run into — from unusual hardware to the day-to-day challenges of handling data in real time. In June, Estep revamped and simplified the whole system after it bogged down its host servers.
"Working with real-time data is not easy," said Estep, a symposium computer science student from Columbus, Ohio. "We have network problems now and then. There are some gaffes. Our host got attacked with a 'denial of service' attack last week and we're missing eight hours of data...It seemed more straightforward (in the beginning) than it turned out to be, but it's been fun."
The Ypsilanti Solar project began in 2005 with a grant from the Michigan Department of Labor and Economic Growth. The grant provided for four solar panels on the co-op's roof and a traveling educational demonstration about solar power.
Since then, through various grants, Solar Ypsi has added eight more panels to the array at the co-op, paid for 12 panels for Ypsilanti City Hall (installed during August) and will set up 30 on the roof of the Food Co-Op's bakery on River Street this fall. All will eventually be monitored through the Web site, along with others planned (but not funded) for the Ypsilanti Department of Public Works and Adams School.
"I can't wait to get City Hall (up and running,)" Strenski said. "It will be really interesting. It's kind of like what (President Barack) Obama wants in terms of transparency of how your tax dollars are being spent. All of a sudden, if somebody leaves the lights on during the night, their customers will know — and they'll be on the phone in the morning."